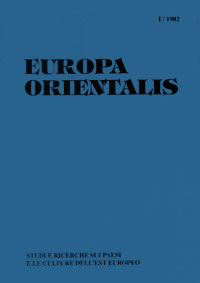 "Europa Orientalis. Studies and Researches on Eastern European countries" is published annually and promotes research in all the areas of Slavic Studies. It publishes specialist studies on the history, cultures, languages and literature of Slavic and East European countries. It also presents critical as well as, unpublished works, archive material, discussions, bibliographies and reviews.
Founded in 1982 by Mario Capaldo and Antonella d'Amelia, the journal reflects the activity of several generations of Italian and European Slavists. Members of the editorial board in the past have included Giuseppe Dell'Agata, Cesare De Michelis, Sante Graciotti, Nicoletta Marcialis, Riccardo Picchio, Armando Pitassio, Rossana Platone, Anton Maria Raffo, Angelo Tamborra. Since 2007 the Editor in Chief is Cristiano Diddi.
Research fields: history, philology, linguistics, folklore, Slavic literature, comparative studies, arts and entertainment.
Editor: University of Salerno, Department of Humanistic Studies, ISSN: 0392-4580
Europa Orientalis is indexed in the European Reference Index for the Humanities (ERIH PLUS), the most authoritative reference index within the European Union when it comes to international quality and impact accreditation for scientific journals in the areas of Humanities and Social Sciences.
Europa Orientalis is indexed in the list of the A-ranking international journals for the Humanities by the Italian Evaluation Agency of University and Research (ANVUR).